Effective and easy-to-use Ethernet communication systems between the field level and higher system levels are a key factor for future applications with IIoT and Industry 4.0 solutions in the process industries. To help meet this challenge, EtherNet/IP was named as one of the minimum binding requirements for such systems by NAMUR. ODVA is committed to the adaptation of EtherNet/IP to the full spectrum of process industry requirements, both now and in the future, to meet the growth of Ethernet in process plants.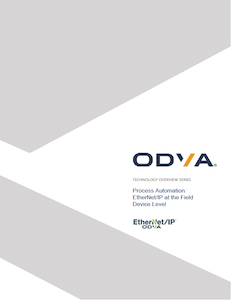 As a part of this effort, NAMUR NE 107 Process Diagnostics have been integrated into EtherNet/IP, and ODVA has translation mechanisms for the integration of both HART and IO-Link devices into an EtherNet/IP architectures. The addition of seamless translation services for HART and IO-Link devices enables end users to be able to maximize their existing investment, which is crucial given the long product lifecycle in process, while also being able to take advantage of the benefits of EtherNet/IP. The end goal of the addition of NAMUR NE 107 diagnostics information is to ensure that EtherNet/IP can move critical process information from the device to the cloud.
Work has also been done to ensure that EtherNet/IP works efficiently and seamlessly with FDI and FDT technology for the benefit of implementers within the process industries. As a result, EtherNet/IP can be used across the plant to connect devices to higher level infrastructure as an enabler to better performance for IIoT, Industry 4.0, NOA, and OPAF. Additionally, ODVA supports the PA-DIM process automation device information model specification that can be integrated across communication protocols, meets the requirements of the NAMUR Open Architecture (NOA), and enables end users to better use device data from across the plant. Learn more about PA-DIM here.
Ethernet-APL
ODVA is actively engaged in industry-wide efforts to promote adoption of an Advanced Physical Layer, known as "Ethernet-APL," for long-reach, single pair Ethernet. Ethernet-APL enables two wire cable lengths up to 1,000 meters, potential reuse of existing infrastructure, and use in hazardous areas, which will fully open up the process industry to Ethernet. Ethernet-APL will be an important enabler of EtherNet/IP in process. Read about Ethernet-APL in the white paper "Ethernet to the Field," available in English and Japanese. 
At the field level, industrial Ethernet via Ethernet-APL will first be applied to devices with larger data exchange requirements, such as flow meters, which contain instrumentation data (e.g., mass flow, viscosity) or control valves, which contain process data (e.g., travel distance, stiction). In the longer term, devices with smaller data exchange requirements, such as simple sensors and actuators, will follow. Ethernet-APL will soon open up process operations to the higher speed and rich data afforded via industrial Ethernet based networks such as EtherNet/IP.
Ethernet-APL is more than just Single Pair Ethernet. Ethernet-APL is made up of Single Pair Ethernet (IEEE 802.3cg-2019, 10BASE-T1L), 2-Wire Intrinsically Safe Ethernet (IEC 60079, 2-WISE), and Type A fieldbus cable (IEC 61158-2, for intrinsic safety). The combination of Single Pair Ethernet, Intrinsic Safety, and Type A fieldbus cable is what allows Ethernet-APL to satisfy the process industry needs for long reach cabling of up to 1,000 meters per trunk length and intrinsic safety protection for all hazardous Zones and Divisions. 2-WISE defines intrinsic safety protection, including simple steps for verification of intrinsic safety without calculations.
The Ethernet-APL cable specification is important because end users can potentially re-use existing installed Type A fieldbus cable that meets the resistance standards of 100 ohms with +/- 20 ohms tolerance. Type A two-wire cable with shielding is polarity independent to reduce installation errors and only requires a screwdriver to ensure connectivity along with related wire preparation tools to physical connect to the remaining automation installation. This can potentially result in a much easier migration for existing fieldbus installations that could net significant amounts of time and money savings for large installations and long cable runs.
Ethernet-APL will use Single Pair Ethernet Technology to help move critical information from the device to the cloud for future applications with IIoT and Industry 4.0 solutions. Interest in Ethernet-APL from end users has been enthusiastic and will help drive adoption of Ethernet-APL, which will enable companies to gain the benefits of valuable additional data insights that will help drive cost savings. EtherNet/IP will be one of the key available industrial Ethernet communication networks that will run on Ethernet-APL as EtherNet/IP was originally designed for the future with a basis in IP technology. Click here to learn more about EtherNet/IP Single Pair Ethernet solutions.