DeviceNet® is a digital, multi-drop fieldbus network that connects and serves as a communication network between industrial controllers and I/O devices, providing users with a cost-effective network to distribute and manage simple devices throughout the architecture. DeviceNet utilizes CAN (Controller Area Network) for its data link layer, the same network technology used in automotive vehicles for communication between smart devices.  
DeviceNet uses a trunkline-dropline topology and has DC power available on the network cable to simplify installations by providing a single connection point for network communications and device power up to 24 Vdc, 8 Amps. QuickConnect™ functionality allows devices to be exchanged while the network is running (e.g., tool changer on a robot arm). In addition, DeviceNet operates in a controller-device or a distributed control architecture using peer-to-peer communication, and it supports both I/O and explicit messaging for a single point of connection for configuration and control. 
Like all CIP Networks, DeviceNet utilizes the Common Industrial Protocol (CIP™) for its upper layers. CIP Networks follow the Open Systems Interconnection (OSI) model, which defines a framework for implementing network protocols in seven layers: physical, data link, network, transport, session, presentation and application. Networks that follow this model define a complete suite of network functionality from the physical implementation through the application or user interface layer.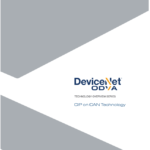 CIP encompasses a comprehensive suite of messages and services for a variety of manufacturing automation applications, including control, safety, security, energy, synchronization & motion, information and network management. As a truly media-independent protocol that is supported by hundreds of vendors around the world, CIP provides users with a unified communication architecture throughout the manufacturing enterprise.